VIA FERRATA: ELS SANTS DE LA PEDRA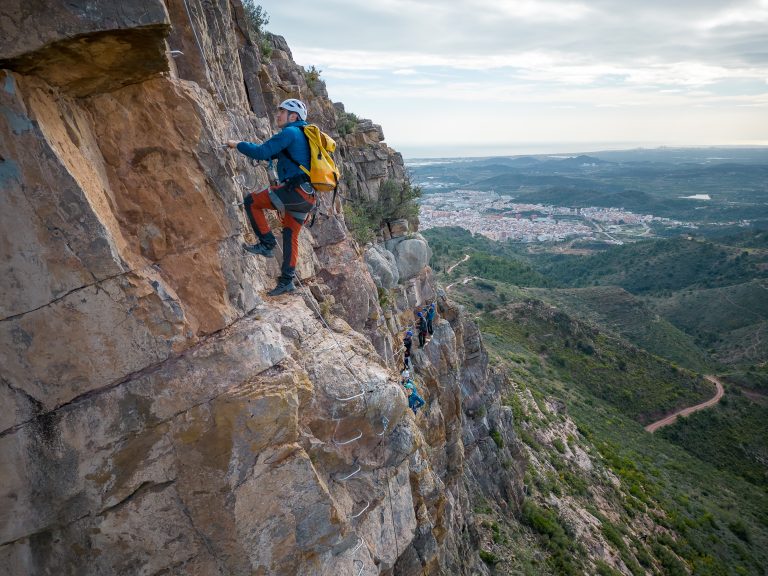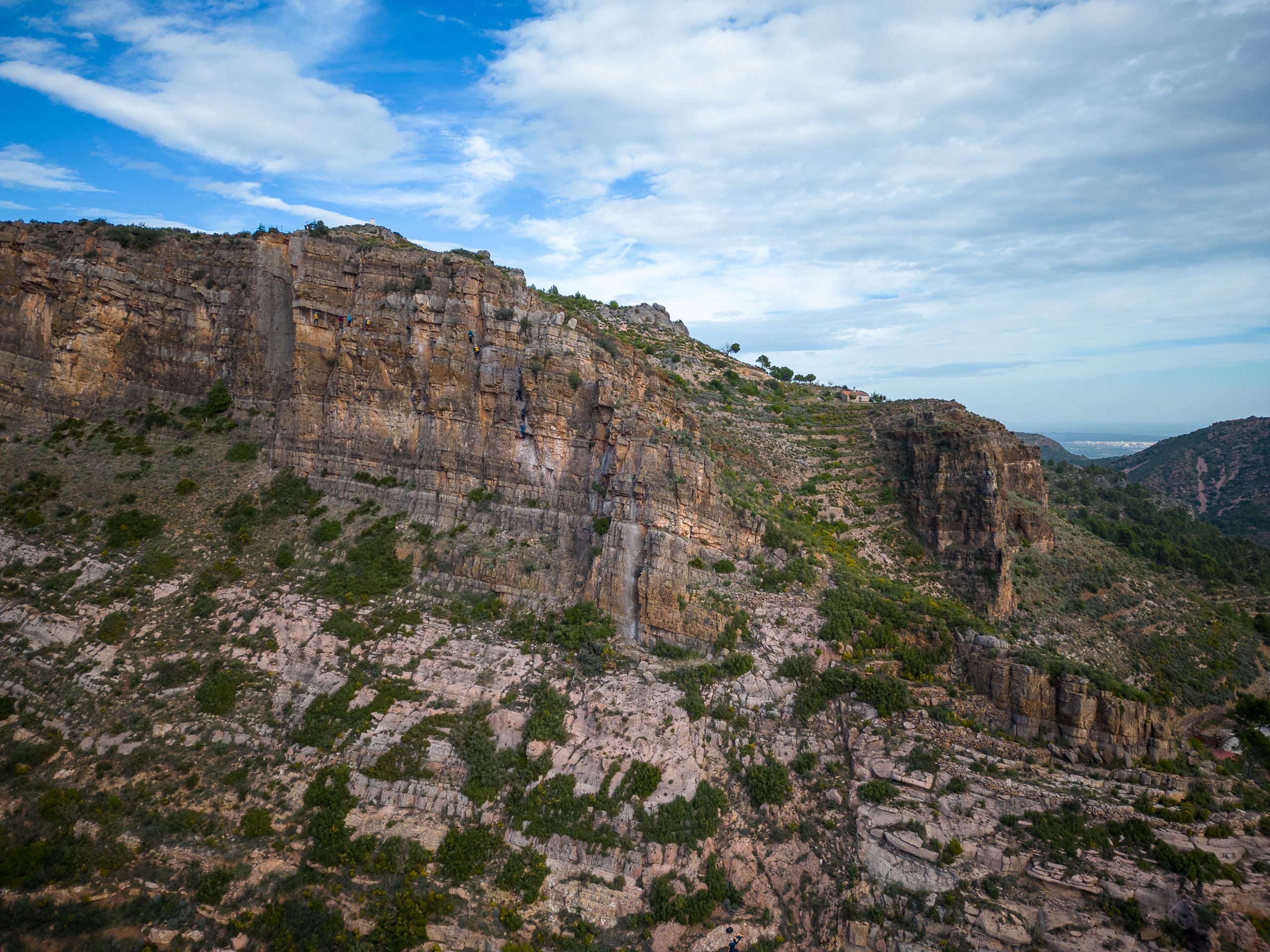 The Via Ferrata de Sants de la Pedra is located on Penyalba mountain, an emblematic point of La Vall d'Uixó. On its peak there is a small chapel dedicated to Saint Abdón and Saint Senén, considered protectors against hail storms that ruin crops. These saints are known in popular tradition as Els Sants de la Pedra.
Installed on a rocky wall in the area known as Cingles de Tido, the via ferrata is located on a slope over Barranc d'Aigualit (Aigualit ravine), with astonishing views of the area.
It is an horizontal climbing facility equipped with different aerial games such as a cable bridge, a Tibetan bridge, a pendulum passage and the impressive Paso del Pajarito (llitle bird passage) with three trapezia hanging from a rocky roof.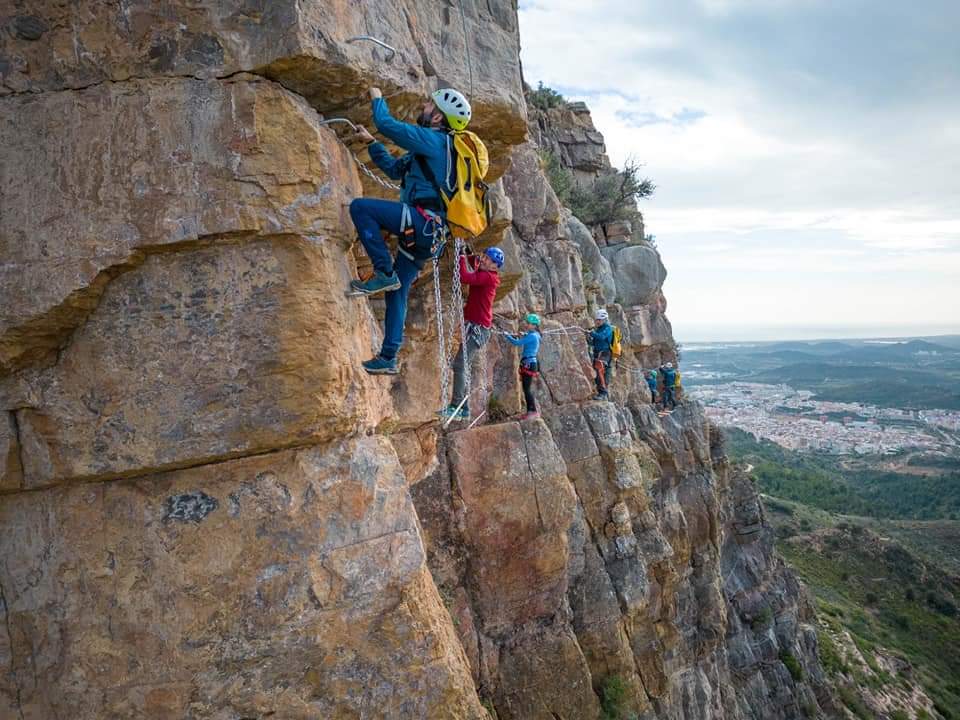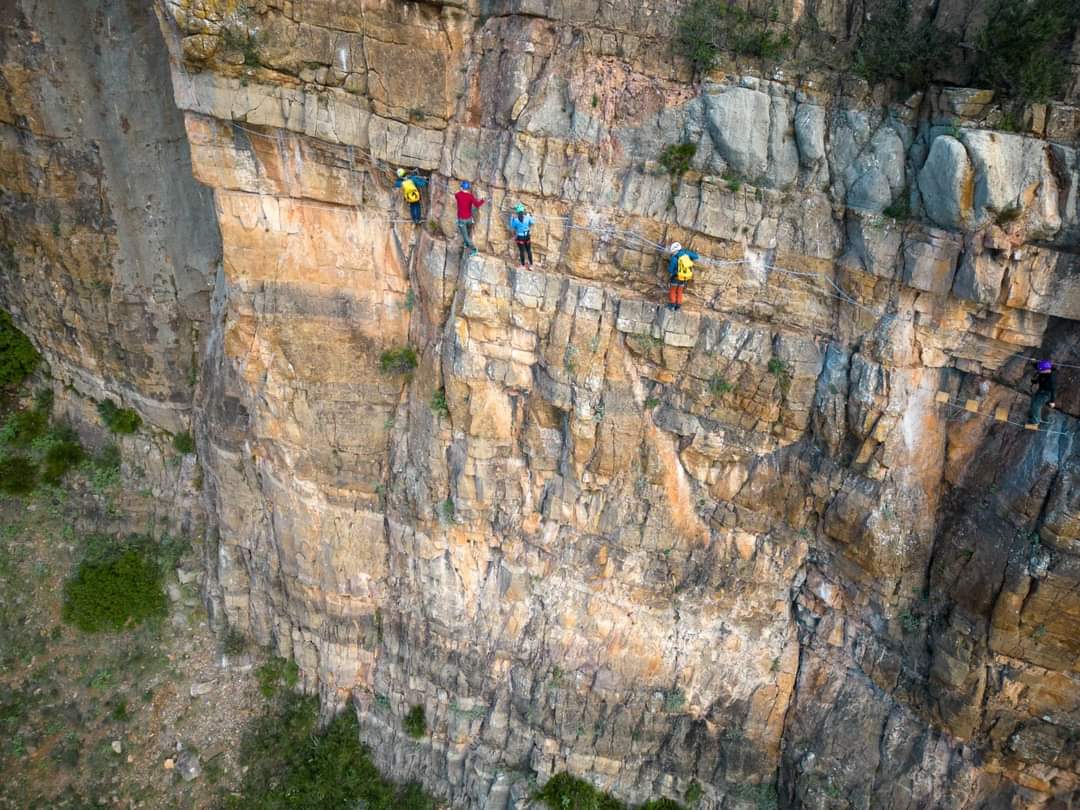 It should be noted that, although the via ferrata has a free access, previous experience and necessary equipment is imperative, as well as it is required to be a member of a mountain federation. Otherwise, general public can do the activity by contacting active tourism companies and accredited guides. To find out which companies can be hired, please contact La Vall d'Uixó Tourist Info: 964 660 785 or vallduixo@touristinfo.net.
Rules of use for free access
Only uphill track.
It is forbidden to enter without the necessary experience or without the required specific equipment.
Underaged children must be accompanied by an adult.
Any user whose weight is outside the manufacturer's effective range of the belay carabiners must be secured with a rope.
Only one person per cable section.
Keep secured to the cable at all times.
Check that the carabiners close after each maneuver.

In the event of a thunderstorm, you should move away from the track equipment as soon as possible.

It is forbidden to go below the via ferrata itinerary, except in case of extreme necessity, as there is a high risk of falling rocks. If you wish to access the climbing sector, there is a path on the other side of the rock.
How to get to the via ferrata
Access to the facility can be made by vehicle, along the path known as Camino de Penyalba, which starts from 12 del Barrio Carbonaire Street, in the town centre. Although there is a small car park, we recommend going with the minimum number of vehicles possible, given that there are many complicated sections where it is not possible for two vehicles to cross. Once in the car park, take a three-minutes approach path to reach the starting point of the Via Ferrata dels Sants de la Pedra.