A dish that crosses borders...
Declared an Intangible Asset of Cultural Interest. It is one of the most emblematic and world-renowned dishes of Spanish gastronomy. There is no tourist who does not succumb to a good plate of paella.
Its origins date back to the 15th and 16th centuries and it is found in the rural areas of Valencia, specifically in the emblematic Albufera. This dish was born as a lure for peasants and shepherds, as it was an easy dish to prepare with the ingredients available in the countryside.
Originally, the ingredients of paella were poultry, rabbit or hare, fresh vegetables, rice, saffron and olive oil, which were mixed in the paella pan with the water and cooked slowly with orange wood, which is what gives it its characteristic flavour and smell.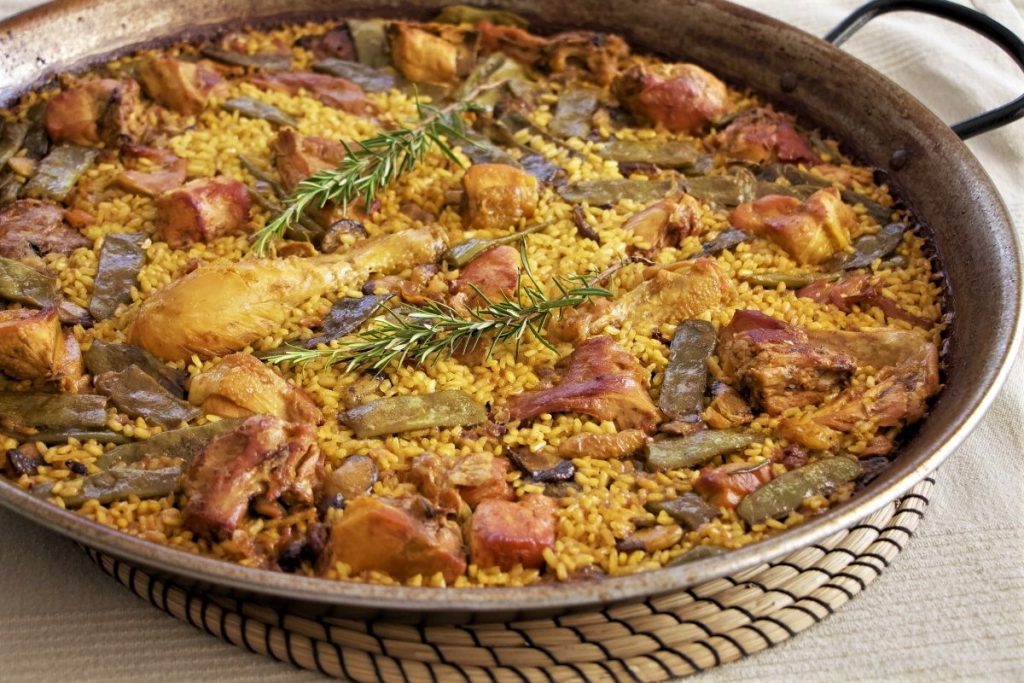 Artichokes
Olive oil

Chicken

Rabbit

Tomato

Rib

Green beans
Saffron
Locust bean

Rice

Salt

Rosemary
Start by pouring a generous amount of oil into a paella pan, wait a few seconds for it to heat up, and fry the chicken, ribs and rabbit over a high heat. The point is to brown the meat all over the surface, this step is necessary to achieve a strong broth with a lot of flavour.
After a few minutes, move the meat to the edges of the paella pan and it is time to add the beans and artichokes and fry the whole mixture over a low heat until golden brown. Immediately add the tomato and leave to fry for 5 minutes.
Stir all the ingredients together, add water to cover the entire contents and bring to the boil. Then add salt and boil over medium-high heat for 15-20 minutes.
Once this time has elapsed, taste the broth to add salt if necessary, and then add the beans and saffron.
Finally, pour the rice into the paella pan over a very high heat and then lower the heat for 5 minutes.
Once the liquid has disappeared, allow the socarrat to form and turn off the heat. This is the slightly toasted part that gives the rice a special flavour.
It is advisable to leave it to rest for 10 minutes before starting to enjoy our wonderful paella.